NASA space exploration in the late 1960s was a defining chapter of United States history, and Piers Bizony's photographic chronicle, Moonshots, uncovers those years with stunning photos of space and Earth from NASA's archives, taken by Gemini, Apollo, Space Shuttle, and ISS astronauts using high resolution Hasselblad cameras.
During the Apollo 1 investigation, a number of critics spoke disparagingly of NASA administrator James Webb's "Big Red Booster." He tried to warn Congress that the Soviets were building the N-1, a rocket almost as tall as a Saturn V. The CIA was monitoring the progress of this leviathan, but Webb kept the details vague, because no one was supposed to know about America's reconnaissance capabilities. He had a hard time convincing anyone, and it was only in the 1990s, after the collapse of the Soviet Union, that we in the West truly appreciated how enormous the N-1 really was.
The N-1's inaugural test flight in February 1969 was a disaster. A CIA satellite photographed the rocket standing on the pad, but next time the satellite flew overhead, the pad had vanished, and the landscape far around was scorched black. It soon became clear that the Soviets could not achieve their aim of landing a solo cosmonaut on the moon, either before Apollo or after it. However, a smaller and much more reliable rocket, known as the Proton, posed a more urgent challenge to NASA. On September 15, 1968, a Proton launched a mysterious unmanned spacecraft, Zond 5, and sent it around the moon. So far, so relatively routine. It was what happened next that really worried American observers.
Zond's capsule, a pod large enough to carry a man, was returned to Earth, with its payload of biological samples (a tortoise and several plants) intact. Although the capsule's reentry was too hard and fast for human comfort, it looked as if the Soviets might try to steal a march on Apollo by sending cosmonauts around the moon and bringing them home. No doubt the flaws in the Soyuz vehicle could be fixed, just like Apollo's. If the Soviets had succeeded, it would have been a public relations catastrophe for NASA.
American observers saw outward signs of technical progress. What they did not see were the management failures and leadership rivalries slowing the Soviet's progress toward the moon.
Consequently, NASA felt under pressure to get going. The Saturn V moon rocket had experienced major problems during unmanned test flights, so it was a bold decision to put astronauts on the next one, and send them to the moon, and into lunar orbit.
With astronaut Frank Borman in command, accompanied by Bill Anders and Jim Lovell, Apollo 8 reached its target during the Christmas of 1968, at the end of a year that had been grueling not just for NASA but for America as a whole. The Vietnam War was escalating. Student riots, racial tensions, and civil unrest darkened the mood, as did the assassinations of civil rights leader Martin Luther King and presidential candidate Bobby Kennedy. Apollo 8's success delivered a much-needed sense of optimism about humanity's future.
Changing Our Perspective
Heading for the moon at 25,000 miles an hour, the crew of Apollo 8 sent back live TV pictures of the dwindling Earth: not just the curved horizon, but the entire ball of our planet, surrounded by the blackness of space. The monochrome TV camera aboard the ship revealed barely more than a white blob, but it was still sensational for people back home who had never seen anything like it. Jim Lovell thought out loud for his TV audience: "I keep imagining I'm a lonely traveler from some other planet, and I wonder what I'd think about the Earth from this distance. Would I think it was inhabited?"
Very soon after splashdown, and the worldwide celebration of the crew's safe homecoming, the Hasselblad film frames from the mission were processed and distributed. For the first time in history, we saw color images of the blue Earth suspended in the blackness of space, with the cold, lifeless, pockmarked lunar horizon serving as a vivid and urgent reminder that our little world is all we have.
Looking back on his voyage a few years later, Apollo 8 crewman Bill Anders reflected, "I trained hard for many years to fly around the moon and take a close look at it, because I thought that's what the mission was. When we got home, I realized we had discovered something much more precious out there: the Earth. I believe the environmental movement was tremendously inspired by those missions. That alone is worth the relatively few billions of dollars that we spent on Apollo."
Tough Tests for Men and Machines
The launch rate in the Apollo era was astonishing by today's standards. On March 3, 1969, just two months after Borman and his crew had rounded the moon, Apollo 9 took off, carrying a launch module for the first time, nicknamed Spider.
Commander James McDivitt and landing module pilot Russell "Rusty" Schweickart would take Spider for a test drive in Earth orbit, while command module pilot Dave Scott kept control of the mother ship, Gumdrop. The mission would also test what might happen if, for some reason, a command module and landing module could not redock at the end of lunar operations. Could future moon walkers bridge the gulf by making an emergency space walk?
Schweickart crawled out of Spider's front hatch on March 6, while the vehicles were docked, but his ambitious schedule was simplified at the last moment because of the nasty attack of motion sickness he'd suffered a few hours earlier. Scott pushed his head through Gumdrop's hatch, and both astronauts took spectacular photographs of each other. Schweickart recovered his equilibrium in time for Spider's six-hour solo performance the following day, successfully carrying out almost all the maneuvers and rocket engine firings necessary for a lunar touchdown.
The space agency told a story of smooth progress toward the moon, and perhaps the public back home would have appreciated these routine test flights even more if it had been allowed to know just how tough they were. In his memoirs of 2004, Dave Scott observed, "NASA made those missions look too easy. They were really, really hard."
Apollo 10 took off on May 18, 1969, heading for the moon. Tom Stafford and John Young took their landing module, Snoopy, to within 10 miles of a touchdown. Watching through the windows of command module Charlie Brown, John Young caught a glimpse of Snoopy glittering in the sunlight 80 miles below him. When the time came for Snoopy's ascent stage to blast clear of the descent stage and make the climb back to Charlie Brown's orbital altitude, the guidance computer experienced momentary confusion. The down-facing radar was processing data about the onrushing lunar surface, while the up-facing radar was hunting for Charlie Brown, and somehow, the two computer routines were trying to run simultaneously. Snoopy became schizophrenic, bucking and gyrating, literally not sure if it was trying to get away from the moon or drop down toward it. "Son of a bitch!" Cernan swore. "We're in trouble," Stafford confirmed. They regained control, and the computer was successfully stabilized.
After the mission, a pastor wrote to NASA, more concerned about Cernan's use of bad language than by the danger he'd been in. Cernan pleaded that an astronaut fighting a wayward machine could be forgiven for not always minding his language. "I saw the lunar horizon go by about seven or eight times in ten seconds, and that's a hair-raising experience," he said.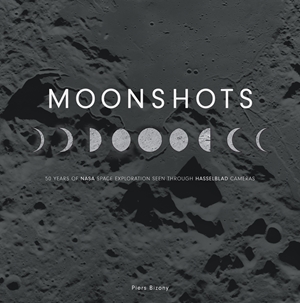 Moonshots presents stunning photos of space and Earth from NASA's archives – taken by Gemini, Apollo, Space Shuttle, and ISS astronauts using high resolution Hasselblad cameras.
In December 1968, the crew of Apollo 8 captured images depicting Earth hanging like a lonely fruit in the vast darkness of space. The social and spiritual shock of that photograph—and those which followed—never fully diminished, even as Apollo missions followed at an incredible pace, including the first lunar landing on July 20, 1969.
Moonshots is the definitive photographic chronicle of NASA space exploration—a giant slipcased book featuring more than 200 remarkable photographs from that eventful era created almost exclusively on large-format Hasselblad cameras. Though a number of these images have been reproduced in books and magazines over the years, one attribute of this incredible collection has seldom been exploited: the sheer size and resolution of the photography. Aerospace author Piers Bizony scoured NASA's archives of Hasselblad film frames to assemble the space fan's ultimate must-have book—a gorgeous large-format hardcover presented in a heavy slipcase with die-cuts to represent the phases of the moon.
This resulting volume extracts a stunning selection of photographs captured by astronauts using Hasselblad equipment, many of them seldom previously published, let alone in such a lavish package. The Apollo voyages form the centerpiece of this amazing collection, but equally fabulous images from precursor Gemini missions are also featured, along with later photographs chronicling Space Shuttle missions and even the construction of the International Space Station.
Piers Bizony is an experienced multimedia professional that has written about science and the history of technology for a wide variety of publishers worldwide and has undertaken major projects for the media departments at NASA and ESA. He has also gained substantial experience within the film and television industries.
The author of Quarto's Space Shuttle: Celebrating Thirty Years, One Giant Leap: Apollo 11 Remembered, and New Space Frontiers, Bizony spent the last three years working closely with the family of Stanley Kubrick, in conjunction with Warner Bros. and fine art publishers Taschen on a large-format book about the making of 2001: A Space Odyssey.