The Earth is a complex, fascinating place. From its vast oceans to its towering mountains, arid deserts, and lush forests, the beauty and wonder of our planet is truly staggering. 1001 Amazing Places You Must See Before You Die by Richard Cavendish in partnership with UNESCO excellently captures spectacular phenomena and little-known marvels in every part of the globe. Travel with us on a mini tour of some of the book's eye-catching golden terrain.
…
San Andreas Fault / California, United States
Length of San Andreas Fault: 800 mi (1,300 km)
Depth of fault: at least 10 mi (16 km)
Type of fault: strike-slip geological fault Famously running right through San Francisco, the San Andreas Fault is one of the longest and most active geological faults in the world. Lying to the west of California's coastal mountain range, it is also one of the most visible, revealing its presence with many long linear lakes, strangely twisted formations of sedimentary rocks, streams that turn sharply, and road lines and fences warped from lateral strike-slip.
Some 20 million years old, the fault extends 10 miles (16 kilometers) into the planet's crust and forms the "master" fault of an intricate fault network that cuts through rocks of the California coastal region. Caused by tension generated as the Pacific plate moves northwest relative to the North American plate, the fault is a zone of crushed and broken rock a few hundred feet to 1 mile (1.6 kilometers) wide. Minor shocks are very frequent. Rocks along the fault have been displaced up to 350 miles (563 kilometers) in the last 20 million years. Average progress north is 2 inches (5 centimeters) a year. The 1906 San Francisco earthquake involved a 21-foot (6.4-meter) displacement.
…
Grand Teton National Park / Wyoming, United States
Established as a national park: 1929 (enlarged 1950)
Highest point (Grand Teton): 13,770 ft (4,197 m)
The Grand Teton National Park protects some of the most stunning mountain scenery in the United States. The Teton Range, the highest mountains in Wyoming, rise abruptly from the Jackson Hole valley floor, their jagged peaks reflected in the valley's lakes. The mountains are much younger than the rest of the Rockies—there were no mountains here about nine million years ago. Glaciers are found among the high peaks, and Grand Teton is the highest at 13,770 feet (4,197 meters).
There is a profusion of wildlife. Among the large mammals regularly seen are bison, moose, elk, pronghorn, beaver, and black bear. Grizzly bears are present in the northern part of the park and bighorn sheep are found on the high slopes. Wolves from Yellowstone have also been seen here in recent winters. Bird species include bald eagle, osprey, white pelican, and trumpeter swan. The Snake River cut-throat is a type of trout found only in the river that flows through Jackson Hole. The Grand Teton National Park was first established in 1929 and was enlarged in 1950. The best time to visit is from June to September—due to heavy snowfalls, most visitor accommodation is closed for the rest of the year.
…
Pinnacles Desert / Western Australia, Australia
Notable feature: eroded limestone pillars rising up from desert
Vegetation: from trees to heath flowering plants
Among Australia's best-known landscapes is the extraordinary Pinnacles Desert, near the town of Cervantes in Western Australia. Here thousands of huge limestone pillars rise up to 12 feet (3.5 meters) above shifting yellow sands. Many of these strange columns are jagged with sharp edges, while others look like surreal tombstones. The pillars of limestone were formed over tens of thousands of years and are the eroded remnants of formerly thick beds of rock.
Seashells, broken down into lime-rich sands, were brought ashore by waves and then carried inland by the wind to form high mobile dunes. These dried out and combined with the sand in the lower levels of the dunes, eventually producing a hard limestone rock. Curiously, while the process of erosion took millennia, the pinnacles are thought to have been exposed only in relatively recent times.
Scientists believe the pinnacles were first exposed about 6,000 years ago but were then covered over by shifting sands before being exposed again in the last few centuries. This process is still occurring, driven by the predominantly southerly winds in the northern part of the desert, which are blowing a steady covering of sand over the pinnacles in the south. Over time, all the limestone spires will probably be swallowed again and the cycle repeated, creating and then covering up more strange and wonderful shapes.
Located in the Nambung National Park, the Pinnacles Desert is a striking contrast to other areas of the park, which include beautiful beaches, coastal dunes, shady groves of tuart trees, and low heath rich in flowering plants. The heath plants burst into flower from August to October, creating a striking spectacle for thousands of visitors. Aboriginal artifacts at least 6,000 years old have been found in the desert, although Aboriginal people have probably not lived in the area for hundreds of years. Nambung is an Aboriginal word that means "crooked" or "winding" and it was from the Nambung River that the park was named. Yet the pinnacles remained relatively unknown to Australians until the late 1960s, when the Western Australia Department of Lands and Surveys added the area to an established national park. Today, 150,000 people visit the park each year.
…
Oak Creek Canyon / Arizona, United States
Depth of Oak Creek Canyon: 2,500 ft (762 m)
Rock type: sandstone and limestone
Length of canyon: 14 mi (22.5 km)
Oak Creek Canyon, near Flagstaff Arizona, is blessed with a high elevation that ensures cooler temperatures and more rainfall than the hotter, mainly desert habitat common to Arizona. Here lush woodlands cover the canyon floor, making it a favorite escape during the summer months. The canyon is deep and narrow. A stream flows through it year round, reflecting the red sandstone of the lower walls and the white limestone higher up. Like all sandstone canyons, the walls of Oak Creek Canyon have been eroded into a myriad of rounded arched shapes where water has carved through softer sections.
The West Fork of Oak Creek Canyon is renowned as one of the most beautiful hikes in Arizona. The combination of the flowing stream, narrow cliffs, and the greenery of the woodland make for astounding scenery. In the fall, the tree foliage turns beautiful hues of orange and red. The first three miles (five kilometers) of the canyon hike are an easy climb, but for the next 11 miles (18 kilometers) it's more challenging—albeit an exhilarating hike requiring boulder hopping, scrambling up canyon walls, wading, and even swimming through several cold, deep pools.
…
Cango Caves / Western Cape, South Africa
Length of Cango Caves: 3.3 mi (5.3 km)
Notable features: stalagmites, stalactites, hanging curtains
Deep below the foothills of South Africa's Swartberg Mountains is the labyrinth of caverns, tunnels, and underground lakes that forms the Cango Caves. They were discovered in 1780 by cattle herder Klaas Windvogel who, accompanied by his employer Mr. Van Zyl and local teacher Barend Oppel, was lowered into the first great chamber. By the light of their flickering torches they discovered a stalagmite 30 feet (9 meters) high, which was named Cleopatra's Needle.
The first chamber, known as Van Zyl's Hall, is 330 feet (100 meters) long and 50 feet (15 meters) high, but in more recent years cave explorers have found more chambers, including one 1,000 feet (300 meters) long. With names like the Crystal Forest and the Throne Room, each chamber features stalagmites and stalactites made of calcite— a crystallized form of calcium carbonate or chalk—that grow into distinctive shapes. Bhota's Hall has hanging gothic curtains and a floor-to-ceiling column called the Leaning Tower of Pisa, while the Bridal Chamber has a structure similar to a four-poster bed. The formations are generally tinged red and pink by iron oxide, but some stalagmites lack the pigment and resemble white-hot pokers.
…
Singing Sands / Gobi Desert, Mongolia
Length of Singing Sands: 120 mi (193 km)
Maximum height of dunes: 2,500 ft (800 m)
The name for the region in Mongolia is Hongory Els, meaning "Singing Sands." It refers to the noise made by sand grains as they pass over each other when wind moves them across the surface of the dunes. Unlike most sand particles, which are coarse and irregular, the particles of the Singing Sands are round and smooth. In dry weather conditions, these particles of sand rub against each other, creating an eerie musical sound.
The dunes extend for some 115 miles (185 kilometers) across the southern Gobi Desert between Mount Sevrei and Mount Zuulun (part of the Altati Range). One of at least 30 singing sand sites in the world, they are sensitive to pollution, which can microcoat sand grains and kill the sonic effect. The area is also famous for its oases and abundant wildlife, which includes wild sheep, ibex, and gazelles, as well as their predators, leopards and dhole (wild dogs), in addition to an abundance of birds. The most popular oasis is 150 miles (240 kilometers) from the fossil site at the famous Flaming Cliffs.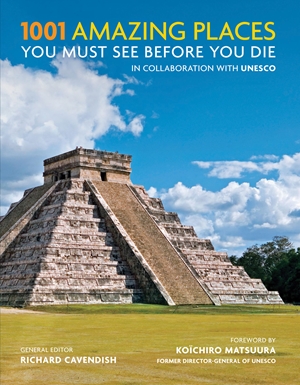 Both casual travelers and dedicated history buffs will relish this visitor's guide to palaces, cathedrals, temples, battlefields, homes of great artists and statesmen–places and monuments that bear witness to thousands of years of human history. Packed with vivid color photos and detailed textual entries 1001 Amazing Places You Must See Before You Die carries its readers off to places that include:
Prehistoric Sites: Stonehenge, England; the Lescaux Cave Paintings, France, and others.
Battlefields: Waterloo, Belgium; Gettysburg, U.S.A.; Hastings, England; Ypres, Belgium, and others.
Buildings and Monuments: St. Basil's Cathedral, Moscow; Nishi Hogan-Ji (Buddhist temple), Kyoto, Japan; St. Paul's Cathedral, London; the Eiffel Tower, Paris; the Empire State Building, New York City; the Ponte Vecchio, Florence, Italy; the Wailing Wall, Jerusalem; the Pyramids, Egypt; and many others.
Homes of the Famous and Infamous: Mozart's Birthplace, Salzburg, Austria; Shakespeare's birthplace, Stratford-upon-Avon, England; Jane Austen's home, Chawton, England; Hitler's retreat at Berchtesgaden, near Munich, Germany; and many others.
Published in collaboration with the United Nations Educational, Scientific, and Cultural Organization (UNESCO), this book upholds their mission to pass on information about the legacy of our past to future generations.  1001 Amazing Places You Must See Before You Die makes a great book for browsing, an idea-packed source for vacation planning, a handy reference volume for students of history, and a sheer pleasure for the general reader.
Richard Cavendish is a historian and an authority on Britiain's historic heritage.  He is the author of A Guidebook to Prehistoric England, writes a regular monthly column in History Today magazine, and has just completed a book on the kings and queens of Britain. He has planned, contributed to, and edited numerous reference works, including books about great events of the twentieth century and wonders of the world.  He has lectured and broadcast in Britain, the United States, Denmark, Canada, and Australia.