Kira Cochrane is Opinion Editor of the Guardian, and has written many novels including The Naked Season and Escape Routes for Beginners. Her new book, Modern Women, is a celebration of some of the­ influential and inspiring women who have changed the world through their lives, work and actions. Today we're sharing the story of activist and journalist Ida B. Wells.
Enter to win a copy of Modern Women below!
Ida B. Wells
Activist and journalist, 1862–1931
On her way home to Memphis in 1883, Ida B. Wells bought a first class rail ticket. She proceeded to the Ladies carriage, where only women and their male companions were allowed, and she could travel without the attentions of single men.The conductor told her to move: he wouldn't allow a black woman to ride in first class. Wells refused to give up her seat, just as Rosa Parks would, 72 years later, in one of the defining protests of the civil rights movement.
The conductor left, then returned, repeating his instruction and moving Wells's bags to the smoking carriage. He grabbed her arm, trying to move her forcibly. Wells sank her teeth into his hand, and only when two more men joined him did they succeed in moving her.
She filed a lawsuit against the railroad for assault and discrimination, and won, awarded $500. But this led to a racist outcry, and her victory was overturned by the Tennessee State Supreme Court, with the rail company lawyer questioning Wells's right to call herself a lady. She ended up liable for court costs of $200. Wells wrote about the case, and this marked the start of an  extraordinary career as an activist and journalist that would make her, for a time, the most famous black  woman in the US.
Born into slavery in 1862, Wells was three years old when the ratification of the Thirteenth Amendment formally abolished the slave trade. Her parents were skilled urban labourers and, as Mia Bay writes in her biography of Wells, To Tell the Truth Freely, they were 'intent on remaking themselves and their children as free people'. Wells grew up a passionate reader, and in the mid-1870s attended Rust College. This period of study ended when yellow fever swept Wells's hometown of Holly Springs, killing her parents and baby brother Stanley. She was head of the family, aged sixteen, and was determined to keep her five younger siblings together, supporting them by teaching.
Aged nineteen, she moved to Memphis with her two youngest sisters and continued to teach; after the article about her protest she continued to write too. There were only 45 black female journalists in the US in the 1880s, writes Bay, and Wells became well known by her pen name: Iola, Princess of the Press. In 1889, while still a teacher, she bought a one-third interest in a newspaper called The Memphis Free Speech and Headlight and became editor – she was the first woman in US history to own and edit a black newspaper. She made it a commercial success, which proved fortunate when Wells lost her teaching job, after writing an article which criticised the conditions in Memphis's black schools.
The courage to write the truth, whatever the consequences, was essential to her next move: investigating lynching. Between 1882 and 1930 lynching was responsible for the deaths of more than 3,220 African-Americans, and as Bay writes, this white-on-black mob violence 'was so popular in the South that it was commemorated in postcards featuring the dead black bodies hanging from trees, bridges, and streetlights'. Until Wells took it on, it went almost unchallenged.

Her campaign began after the killing of her friend, Thomas Moss, in 1892. Moss owned a grocery store just outside Memphis and its success led to threats from white vigilantes, who resented the competition. One day, some plain-clothes police deputies descended on the store, and were shot and wounded by armed guards, in a case of mistaken identity. According to Moss's testimony and his wife's, he was at home at the time, but he and two employees, Calvin McDowell and William Stewart, were jailed, and held without bail for three days until a white mob dragged them off. In a barren field, they were shot, and McDowell's eyes were gouged out.
Wells was away at the time, and was horrified when she returned to Memphis. She wasn't the first person to write about lynching, but was the first to unpick the rape myth most often used to justify the violence. It was argued lynchings were necessary punishment for black men who raped white women – inherent in this was the idea that black men had a greater propensity to rape than white men. Wells exposed the fact that in many lynching cases there wasn't even a rape allegation, and when there was, there often existed a consensual relationship between a black man and a white woman – lynching was a way of terrorising the black community, and laying claim to white women's bodies. Proof of this last argument was the fact that the rape of black women was not punished by lynching, or generally at all. Wells spent much of her career documenting the sexual assault of black women.
She wrote a series of editorials on lynching for Free Speech and a white mob descended on the newspaper's offices, destroying them, and leaving a note that anyone who published the paper 'would be punished with death'.
Wells left Memphis with a pistol in her purse, writes Bay, travelling to New York, and then the UK, where her supporters, including the Duke of Argyll, set up the British Anti-Lynching Committee. This didn't make Wells popular at home. The New York Times described her as 'a slanderous and nastyminded mulattress'.
Wells kept going despite the backlash, writing the pamphlets Southern Horrors (1892) and The Red Record (1895). She married attorney Ferdinand Barnett in 1895, keeping her own name (she was known thereafter as Ida Wells-Barnett), and the couple had four children. She also became owner and editor of The Conservator newspaper.
Wells was involved in the formation of many influential groups, including the National Association for the Advancement of Colored People (NAACP), but was often sidelined – she refused to be deferential. Settling in Chicago, she set up the Negro Fellowship League to help young men who were struggling to survive, and too often criminalised. From the moment she refused to give up her seat, Wells spent a lifetime fighting for the good.
a Rafflecopter giveaway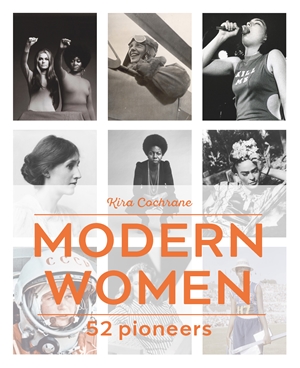 Modern Women is a celebration of some of the­ influential and inspiring women who have changed the world through their lives, work and actions. From suffragettes to scientists, activists to artists, politicians to pilots and writers to riot grrrls, the women included have all paved the way for gender equality in their own indomitable way.
Find out about extraordinary women including writer and teacher Maya Angelou, computer scientist Ada Lovelace, abolitionist Harriet Tubman, film star Katharine Hepburn and pioneering musician Björk. Their lives also enable bigger stories to be told: the suffrage movement with Sophia Duleep Singh; the civil rights struggle and Audre Lorde; advances in science made by Rosalind Franklin; the push for artistic freedom in the work of Frida Kahlo and Louise Bourgeois; and the importance of equality in all sections of society advocated by Chimamanda Ngozi Adichie.