Kira Cochrane is Opinion Editor of the Guardian, and has written many novels including The Naked Season and Escape Routes for Beginners. Her new book, Modern Women, is a celebration of some of the­ influential and inspiring women who have changed the world through their lives, work and actions. Here's the story of the first women to ever reach the summit of Mount Everest, Junko Tabei.
Enter to win a copy of Modern Women below!
Junko Tabei
Mountaineer, b.1939
In 1975, Junko Tabei became the first woman to reach the summit of Mount Everest. In doing so, she defied the men who refused to climb with her when she first took up mountaineering; defied those who suggested she should stay at home to look after her daughter; and braved perils including a near-fatal avalanche, and a journey along an icy ridge where a single misstep would have meant falling thousands of metres. 'I can't understand why men make all this fuss about Everest,' she said after reaching the summit. 'It's only a mountain.'
The US mountaineer Fanny Bullock Workman had been photographed on the Siachen Glacier in the Himalayas 63 years earlier, one of the least explored, least accessible places in the world. In the picture her face is obscured by a newspaper, its front page presented carefully to display the headline: 'Votes for Women'. The symbolism is clear. Women were barred from voting in almost every country at the time, and the implicit and often explicit justification was that they were weaker than men, intellectually and physically.
Workman's image punctured the idea that women and weakness are synonymous, the biological determinism used to bar women from public life. AndTabei's achievement six decades later was a  majestic riposte to such arguments, and to all the people who had told her that no woman would ever conquer the mountain. Born in 1939, in a small town in northern Japan, Tabei was the fifth daughter in a family of seven children. A sickly child, with weak lungs, she first climbed two peaks – Mount Asahi and Mount Chausu – with classmates, aged ten. After studying English Literature at Showa Women's University, she joined a number of climbing clubs in the early 1960s, telling the writer Robert Horn, years later, 'some of the men wouldn't climb with me, but a few older ones were more supportive. Some thought I was there to meet men, but I was only interested in climbing'.
She married mountaineer Masanobu Tabei and in 1969 set up Japan's first climbing club for women. In 1970, the group decided to tackle the Himalayan mountain Annapurna III and on succeeding, were keen to try Everest; with expeditions strictly limited at the time, they had to wait until 1975 to make their attempt. In the meantime, they prepared, seeking the necessary sponsorship, although most companies' reaction, Tabei has said, 'was that for women, it's impossible to climb Mount Everest'. The group of fifteen women included teachers, a computer programmer and a youth counsellor, and they saved money where possible by making waterproof pouches out of recycled car seat covers and accepting unused packets of jam from their students.
'Climbing the mountain is its own reward'
Tabei was told she should stay at home to look after her young daughter, but, 'there was never a question in my mind that I wanted to climb that mountain, no matter what other people said'. As the group started their attempt, newspaper articles mocked them. 'They would use the picture of us applying a lip balm and say "even in the mountain, they don't skip wearing the make up",' Tabei said later. 'For a lot of people, it was a joke. They didn't think we could make it.'
The most perilous moment came on 4 May 1975, when the group reached 21,326 feet above sea level, and their camp was hit by an avalanche. Just before Tabei passed out, an image of her daughter flashed through her mind, and she was saved by the team's Sherpas, who pulled her out by her ankles from underneath the snow and the four teammates who had fallen on top of her. Immediately afterwards, she couldn't walk. But two days later, with a wrenched lower back and legs, she rose to her feet, and assumed her place as the group's leader, climbing and sometimes crawling towards the summit.
Less than 100 metres from the peak, she was faced with an icy ridge, fourteen or fifteen metres long – if she fell in one direction she would plummet 5,000 metres into China; if she fell the other, it was a 6,400 metre fall into Nepal. 'I had never felt that tense in my entire life,' she told The Japan Times. But she crawled carefully along the ridge, and made it to the top at 12.35pm on 16 May 1975. She felt relief, she has said, rather than elation.
In 1992, Tabei became the first woman in the world to climb the highest mountain on each of the seven continents, and hopes to climb the highest mountain in every country. She has undertaken graduate studies at Kyushu University, researching the problem of the rubbish left on Mount Everest, and has spoken out strongly for environmental protection of the mountain. 'When I reached the summit, rather than simply feeling the joy of conquering the mountain, I felt that at last I did not have to take another single step,' Tabei once said. Her achievement was an enormous step for all women.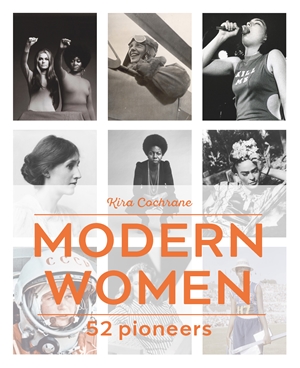 Modern Women is a celebration of some of the­ influential and inspiring women who have changed the world through their lives, work and actions. From suffragettes to scientists, activists to artists, politicians to pilots and writers to riot grrrls, the women included have all paved the way for gender equality in their own indomitable way.
Find out about extraordinary women including writer and teacher Maya Angelou, computer scientist Ada Lovelace, abolitionist Harriet Tubman, film star Katharine Hepburn and pioneering musician Björk. Their lives also enable bigger stories to be told: the suffrage movement with Sophia Duleep Singh; the civil rights struggle and Audre Lorde; advances in science made by Rosalind Franklin; the push for artistic freedom in the work of Frida Kahlo and Louise Bourgeois; and the importance of equality in all sections of society advocated by Chimamanda Ngozi Adichie.