Kira Cochrane is Opinion Editor of the Guardian, and has written many novels including The Naked Season and Escape Routes for Beginners. Her new book, Modern Women, is a celebration of some of the­ influential and inspiring women who have changed the world through their lives, work and actions, like suffragette Sophia Duleep Singh.
Enter to win a copy of Modern Women below!
Sophia Duleep Singh
Suffragette, 1876–1948
The art galleries at Hampton Court Palace were closed, subject to an unspecified threat from the suffragettes. This was 1913, the height of the militant movement, when the campaign for women's votes included arson, window smashing and iconoclasm – paintings slashed or vandalised.
But outside Hampton Court Palace, the area where she lived in a grace and favour apartment, Sophia Duleep Singh was selling copies of the newspaper The Suffragette. Public anger towards the campaigners was growing, but she would not be silenced. Photographs show her in a fur coat, her bag bearing a 'Votes for Women' sash, beside a sandwich board reading 'The Suffragette Revolution!'The struggle for votes for women then stretched back more than a century in Britain. In 1792, Mary Wollstonecraft  had made the case for women's right to political representation in A Vindication of the Rights of Woman, and the first petition for the women's vote was presented to the House of Commons in 1832. Forty years later, Emmeline Pankhurst, aged fourteen, attended her very first women's suffrage meeting, and when she was in her mid-forties, in 1903, she co-founded the Women's Social and Political Union (WSPU).
The non-militant movement, known as suffragists, led by Millicent Garrett Fawcett, had been campaigning carefully and determinedly for years, but with the advent of Pankhurst's suffragettes (a diminutive and pejorative coined by The Daily Mail newspaper, which the women embraced) the next decade was explosive. Women chained themselves to the Prime Minister's railings; unveiled a banner on a steam launch on the Thames; and took to the skies in a balloon, scattering suffragette leaflets. stepping on to the racecourse at the Epsom Derby into the path of the king's horse Anmer, a suffragette banner rolled up in her hand, another pinned around her waist. She died in hospital four days later, and suffragettes processed through London, dressed in white, to mark her funeral.
Sophia Duleep Singh joined the WSPU in 1908, after meeting Una Dugdale, a passionate member, who became the first woman in England to drop the word 'obey' from her wedding vows. As Anita Anand writes in her essential 2015 biography of Singh, her activities began, gently enough, with fundraising and bake sales, but in 1909 she became part of the tax resistance movement – women who refused to pay taxes on the basis that there should be no taxation without political representation. On 18 November 1910, Singh was in the vanguard of nine women, including Emmeline Pankhurst, who led a march on parliament, after the latest bill to secure the women's vote had been deprived the time needed to pass. When they reached parliament, the group found themselves pressed up against the gates, unable to enter. Not far away, more suffragettes were massing, and Singh watched helplessly as they were brutalised and molested by police and the crowds, in what became known as Black Friday.
This didn't dent Singh's commitment. In 1911, she joined the suffragette action to subvert the census, one of thousands of women who stayed out on the night of the count, because 'if women don't count, neither should they be counted'. That same year, Singh staged her most audacious protest, hurling herself at Prime Minister Herbert Asquith's car, pulling a banner from her fur muff reading 'Give women the vote!'
This presented a problem for the authorities. Singh was the goddaughter of Queen Victoria, and the granddaughter of Ranjit Singh, the so-called Lion of the Punjab, founder and ruler of the Sikh Empire in India. A decade after Ranjit Singh's death, his son Duleep Singh, aged eleven, had been forced to sign over his kingdom to the British, who took control of the territory and proceeded to expel him. He was brought to Britain, where Queen Victoria treated him as an exotic pet, and he was given an annual income by the India Office.
Duleep Singh married Bamba Müller, the child of a German merchant and an Abyssinian slave, and they had seven children, six of whom survived infancy. Sophia Duleep Singh was the second youngest.
A rift opened in her parents' marriage while Singh was a child; her father was increasingly unfaithful and his anger at the British deepened. Her mother was lost to a serious depression and drank dangerously, before dying of renal failure when Singh was eleven. Duleep Singh was in Russia, and the care of his children was left to the palace and the government.
Singh became a debutante, moving into a house opposite Hampton Court Palace, her life a round of parties, banquets, shopping and dog shows. But trips to India in her twenties and thirties changed everything. The campaign against British colonial rule awoke Singh's political consciousness, and on returning to Britain she wrote in her diary of her loathing for the English and desire for India to awake and free itself. Around 1,000 suffragettes were imprisoned in Britain over the course of a decade, and in 1909, artist Marion Wallace Dunlop went on hunger strike, demanding recognition as a political prisoner. Other women followed her lead and the authorities responded with forcible feeding: a tube forced into a woman's mouth, nose, or rectum. In June 1913, Emily Wilding Davison was martyred for the movement,
Her dog show days were over. Singh campaigned in support of the lascars, merchant seamen from India and China who were recruited by the British to transport cargo and often exploited, beaten, or left to starve. She became a suffragette, and when Emmeline Pankhurst called for the suspension of campaigning at the start of the First World War, she worked at one of the British hospitals where Indian soldiers were being cared for.
In 1918, women over 30 who owned property won the right to vote in the UK; in 1928, women secured voting rights on the same terms as men. The suffrage campaign was over, but Singh's commitment to women's rights was lifelong. In Who's Who, under interests, she simply wrote, 'The Advancement of Women'.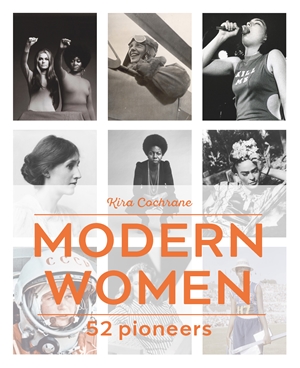 Modern Women is a celebration of some of the­ influential and inspiring women who have changed the world through their lives, work and actions. From suffragettes to scientists, activists to artists, politicians to pilots and writers to riot grrrls, the women included have all paved the way for gender equality in their own indomitable way.
Find out about extraordinary women including writer and teacher Maya Angelou, computer scientist Ada Lovelace, abolitionist Harriet Tubman, film star Katharine Hepburn and pioneering musician Björk. Their lives also enable bigger stories to be told: the suffrage movement with Sophia Duleep Singh; the civil rights struggle and Audre Lorde; advances in science made by Rosalind Franklin; the push for artistic freedom in the work of Frida Kahlo and Louise Bourgeois; and the importance of equality in all sections of society advocated by Chimamanda Ngozi Adichie.