Dr. Talithia Williams is an Associate Professor of Mathematics at Harvey Mudd College and cohost of the PBS series NOVA Wonders, premiering in April 2018. Her upcoming book, Power in Numbers: The Rebel Women of Mathematics, takes aim at the forgotten influence of women on the development of mathematics over the last two millennia. Here's a look at Emmy Noether and how she influenced Einstein.
 Emmy Noether
March 23, 1882 – April 14, 1935
Influencing Einstein
"Noether was the most significant creative mathematical genius thus far produced since the higher education of women began."—Albert Einstein, 1935
It's not easy to overstate the brilliance of Amalie "Emmy" Noether (pronounced NER-ter). The eldest child of a prominent mathematician and professor, she did far more than carry on her family's academic tradition. Not only did she make groundbreaking developments in abstract algebra,2 but history's most iconic genius relied on her mathematical expertise as he devised his revolutionary theory on the nature of gravity, space, and time.
Noether grew up in a well-to-do household in the Bavarian town of Erlangen, Germany. Her mother, Ida Amalia Kaufmann, was the daughter of a wealthy Jewish merchant family from Cologne, and her father, Max Noether, an innovative leader of nineteenth-century algebraic geometry. He was well published and, as a distinguished professor at both the University of Heidelberg and the University of Erlangen, was known for being a patient and encouraging teacher. Love of science and mathematics permeated the household. The Noether children grew up in a home filled with books, rich discussions, and the children of their father's academic friends. Noether's brother Alfred studied chemistry, while Fritz shared his father's enthusiasm for mathematics.
As a girl, Noether did not have the luxury of studying anything she wanted like her brothers did. Instead she learned skills that were traditional for young women at that time: cooking, cleaning, and playing the clavier, an early keyboard instrument. By most accounts she was clever, animated, and well-liked by her peers, despite having a slight lisp. She enjoyed dancing, studied French and English, and passed exams in 1900 that would allow her to teach at schools for young women. But Noether had other plans.
At age eighteen, Noether got permission to audit classes from the German professors at University of Erlangen, where one of her brothers was a student and her father was a professor. This was the only way women could study at German universities. After sitting in on classes for two years (one of only two women doing so), she passed a matriculation exam in 1903. She also spent time at the University of Göttingen, attending lectures by noted mathematicians of the time, including David Hilbert and Felix Klein, two men with whom she would later collaborate. Her father's tutelage and her deep study of the field provided Noether with a strong background for a career in mathematics.
By 1904, women were allowed to matriculate at German universities, and Noether returned to the University of Erlangen. She studied invariant theory and algebraic geometry under Paul Gordan and was awarded a PhD in mathematics, summa cum laude, from Erlangen in 1907. Her dissertation, "On Complete Systems of Invariants for Ternary Biquadratic Forms," was well received by the mathematics community, but she was not particularly impressed with her own work, describing it as "crap."³

While rules regarding university entrance had changed, longstanding biases about women teaching at these same universities had not. Noether was well qualified to teach at the University of Erlangen, but was not allowed to do so. She stayed on, however, making a name for herself at the Mathematical Institute of Erlangen, where she conducted research on theoretical algebra. She also helped her father by filling in to teach his classes when he could not and helping advise several of his doctoral students (without pay, of course). She was interested in her father's work and generalized some of his theorems.
As her publications began circulating, Noether's reputation grew. In 1908 she was elected to the Circolo Matematico di Palermo. Then, in 1909, she was invited to become a member of the Deutsche Mathematiker- Vereinigung. She began lecturing at mathematics gatherings throughout Europe. In 1915 two of her colleagues, Felix Klein and David Hilbert, were working at the University of Göttingen on Einstein's general relativity theory and realized they needed her expertise in  invariant theory.
Noether accepted the invitation from Klein and Hilbert and found herself back at Göttingen, this time as an unpaid lecturer, advertising her courses under Hilbert's name. Meanwhile, she became an invaluable resource to Albert Einstein, formulating what became known as Noether's Theorem. In essence, this finding states that wherever there is symmetry in nature, there is a corresponding conservation of energy, momentum, and electric charge. For example, a symmetry of time (e.g., no matter when you toss a ball in the air, the trajectory remains the same) can be explained by the notion of conservation of energy (i.e., the total energy of an isolated system is invariant, or "conserved," over time).
Noether's mathematical proof of the relationship between time and energy in the universe was later described as "certainly one of the most important mathematical theorems ever proved in guiding the development of modern physics, possibly on a par with the Pythagorean theorem."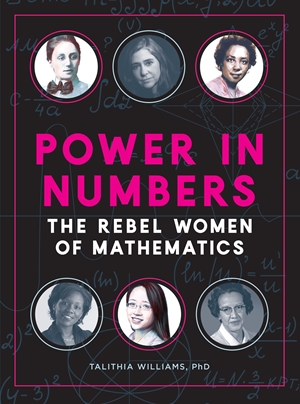 Prepare to be inspired. Power in Numbers: The Rebel Women of Mathematics is a full-color volume that takes aim at the forgotten influence of women on the development of mathematics over the last two millennia.
You'll see each eminent mathematician come to life on each page, women like the astronomer-philosopher Hypatia, theoretical physicist Emmy Noether, and rocket scientist Annie Easley.
Power in Numbers: The Rebel Women of Mathematics is an affirmation of female genius and a celebration of the boundless applications of mathematics. See their stories!