For many of us, living in a short-on-space urban setting and growing a garden tend to be at opposite ends of the spectrum. Isn't an urban garden a contradiction of terms? Doesn't a garden need a vast, rolling lawn or field? The short answer is: no! We can have our cake and eat it, too. Or, rather, we can live in the city and grow a garden, too.
Carolyn Dunster, expert planting designer and author of Urban Flowers, helps readers re-think our space, fine-tune our design eye, and create a flourishing garden that fits in whatever close city quarters we may call home.
Evaluate Your Space and Make a Plan
Whatever the size of your outside area, you will be able to grow some plants. Look at the space through fresh gardener's eyes and imagine it filled with flowers, color, perfume and happiness.
Whether you have identified a potential new growing space, wish to reshape an existing bed or border, or if you are planning to design a small garden from scratch, the first step is to measure it carefully. This may sound obvious, but it is surprising how many people just make a few rough estimates on the back of an envelope, only to find that their planned planting and features don't fit.
If you have a front or back garden, courtyard, balcony, roof terrace or any area that is bigger than the stretch of your own arm span, enlist some help so that the measurements are accurate. Make a careful note of the length and width of the space, together with the length of the diagonals from corner to corner. Add as many other measurements as possible, including the height of any variations in level, both on the ground if there are steps or terraced areas, and of the boundaries, which may not be the same height on both sides. Once you have the dimensions, plot the area to scale on graph paper.
Include the position of your property and any other buildings, marking the windows and doors that open out on to the area, along with any other access points, such as side doors. The position of pathways, steps, and any structures, as well as shrubs, trees and other plants that you will be keeping. Include at this point any neighboring trees or shrubs that overhang your space which may affect the light levels and therefore your planting plans.
This plan will help you to build up a visual reference of your space, enabling you to keep a picture in your head of what you hope to achieve with your urban garden.
*Remember: When making a garden, large or small, there will be a certain amount of trial and error. Just accept that you may make the odd mistake as you learn, and enjoy the journey.
Design Tricks for a Small Space
Looking at your space from an upstairs window in your own property or your neighbor's can be very helpful in assessing what you have to work with. You will see the garden quite differently if you look down on it, and this will help you unlock potential planting pockets that are not always obvious from the ground.
Different height levels trick the eye into seeing a bigger space, so think about how you can introduce them using the following ideas:
If the space is completely level, introduce steps that lead down to a central sunken seating area, flowerbed or lawn. The lower garden space does not have to be very deep to achieve the desired effect.
Install raised beds of different heights.
Create different planting layers and storeys by using a combination of climbers, small trees, shrubs and herbaceous perennials in a range of heights. Also include evergreen ground-cover plants and fill in any gaps with seasonal flowering bulbs and annuals.
Grow climbing plants, such as clematis and sweet peas, up obelisks and other frameworks set in the middle of a border.
Do not restrict taller plants to the back of a border. Tall, thin wispy plants and grasses look good woven through shorter ones.
Fix shelving to the walls or fences and decorate them with pots of different sizes.
Install a wooden pergola, small gazebo or an arch to create a new height level that you can clothe with climbers, such as roses.
Using the Space in Your Urban Garden
Think about how and when you are going to use your garden space. For example, if you are only going to be outside in the evenings you will need to look at lighting and how to install it. This may require an outdoor electrical supply, which will need to be installed by a qualified electrician. If you want to use the garden for entertaining, consider the seating arrangements, or if you plan to make it your personal retreat from the outside world, work out how to optimize your privacy and create a sense of seclusion. In gardens that will be used by small children, you will need to prioritize safety and ensure the space is secure. Allow enough room to accommodate your planting ideas but remember to include somewhere to relax, even if it is just space for some beanbags or folding chairs.
You might try out several different layouts before you find the one that feels right, and it can help to go back outside and mark out your plan in three dimensions, using string or chalk to check that everything will fit comfortably.
Eye-Catching Design in Urban Gardens: Green Roofs, Walls, and Vertical Gardening
Walls and boundary surfaces form the backbone of urban topography, but rather than hemming us in, they can be embraced to form an integral part of the garden, with plants growing up, through and over them. Try integrating your walls or fences so that they form as much a part of the garden as the planting and other hard landscaping features. Blurring the boundaries in this way will help to make your space feel bigger and less restricted.
Any flat roof can provide a fantastic planting opportunity but before you start such a project check the rules and regulations pertaining to usage, as well as health and safety requirements. For many projects, other than plants in pots or containers, this will mean bringing in professional help. For the purposes of growing flowers to pretty up an ugly flat roof or to make use of the only space available, whether it is a bin or log store, communal bike shelter or garden shed, you will not need permission if you own the freehold. In other cases, check with your landlord or management company.
Pre-grown sedum matting, which is widely available on easy-to-lay rolls, requires very little maintenance and no watering. Sedums will provide you with a year-round green roof but if you want more seasonal color, then wildflower turf in a roof meadow mix is the answer. Turf is denser and heavier than sedum matting, so you will need to check the load capacity of your roof first. It also rolls out like carpet, and is grown on a netting base that will eventually biodegrade. Meadow turf attracts insects and birds and will bring color and character to an uninviting flat space.
You can also plant the roofs of bin or log stores, insect hotels, sheds and storage units in shallow crates tailored to fit them; fill these with lightweight compost and drought-tolerant plants.
Tips for Integrating Walls into Your Urban Garden Design
Use the top of a low wall to display a row of pots.
When planting in the ground, only use drought-tolerant species directly next to a wall and avoid disturbing the foundations – if you hit brick or concrete move your hole further away. Plant other species about 8 inches (20 cm) from a wall or fence.
Add compost and fertilizer when planting as the soil close to walls is always dry and low in nutrients.
Make the most of the protection, shelter and extra warmth. A wall retains heat so use it as the backdrop for a bed of sun-loving annual cutting flowers.
Grow tall, leggy, annual plants that would normally require staking against a wall with wires fixed to it, so you can tie on the stems more discreetly.
Use proprietary wall planting pockets to create a green wall with small flowers and foliage plants.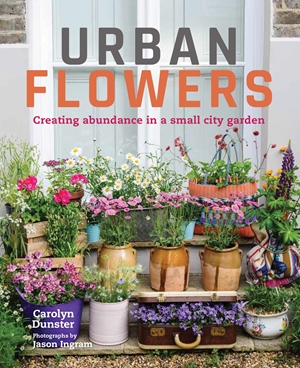 Creating color and interest in a small urban garden by growing a range of flowers and other decorative plants brings with it many rewards. In Urban Flowers, Carolyn Dunster shows you what to grow and how to use your own blooms, leaves and berries in a range of indoor displays and hand-tied bouquets. Locally-grown flowers in season is a significant and welcome trend in floristry, and just as eating a tasteless strawberry in December pricks our consciences, so too does purchasing a bouquet of tulips in September, however stunning they may be to look at. The most local, seasonal flowers, which are the most satisfying to give and to display, are the ones you have grown yourself. Carolyn Dunster shows you how to do this in the smallest of spaces.