Shawna Coronado is an author, columnist, blogger, photographer, and spokesperson for organic gardening, green lifestyle living, and culinary preparation who campaigns for social good. Her newest book, The Wellness Garden, she  details exactly how she has learned to use her garden as a key tool in her battle with osteoarthritis and other chronic pain issues. We got the chance to ask her some questions about her new book and her experience as a woman in the working world.
What or who inspired you to create The Wellness Garden?
In 2015 I was diagnosed with severe degenerative osteoarthritis of the spine. When I was diagnosed I felt that my career and life were over – I could barely walk, couldn't sleep regularly, and was in so much pain it was the focus of every minute of every day for me. I had an osteo-surgeon recommend daily walking and a nutritionist recommend consuming an anti-inflammatory diet. These recommendations I adopted with gusto and spent six months completely rebuilding my daily habits. This led to several years of concentrated diet and exercise research. My goal was to discover what types of techniques based on scientific evidentiary research has proven valuable in the day-to-day existence of arthritis or chronic pain patients. I adopted positive anti-inflammatory daily practices. Within a few days I felt improved, within a few months I felt better than before I was diagnosed — my blood pressure went down, my energy went up, and my intense chronic pain reduced by about 80%. I now LIVE this diet and garden-based exercise routine and wanted to share it with the world in hopes of inspiring a more positive way of life.
Who were your heroes growing up? How about now?
As a child I used to love Mutual of Omaha's Wild Kingdom and stories of Mother Nature which opened my eyes to the natural world at a very early age. Dian Fossey was one of my heroes. We had a subscription to National Geographic and I was able to see Dian Fossey in the jungles of Rwanda saving the lives of gorillas. Because of this type of exposure as a child growing up in a small farm in Indiana, I dreamed that my future would be filled with world travel and doing something in my life that would make a difference for others. My heroines besides Dian Fossey include Rachel Carson, Malala Yousafzai, Eleanor Roosevelt, and Oprah Winfrey – women who are making a difference in the world through their efforts to improve the environment and human rights while building educational opportunities.
What has been a struggle for you as a woman in your field, or in a previous profession?
Working in the corporate world from a young age, I struggled with sexual harassment and discrimination in the work place. I was threatened, inappropriately groped, and forced to work longer hours. My opinion was dismissed in predominately male meetings even though my experience backed my opinions. This was more prominent for me in my first ten years of working after school, but continued to happen all the way until I left the corporate world in 2007. At that time I left the traditional office environment and started working for myself as a professional writer and photographer. While I have still run into this type of treatment throughout my writing career, I'm isolated in a home office so can have a better more-controlled day-to-day working existence. As a result of the horrible treatment I have experienced, I am determined to help as many women get ahead as I can. I want to unify women, build our community, and help other women with their health and wellness lifestyle. In essence, we must come together to stop this behavior. I hope to lead the charge.
What has been an asset to you as a woman in your field, or in a previous profession?
Community. When I was a teenager I took an English writing course. Every day I would come home in tears because the teacher was so very tough on me. It was difficult, ridiculously challenging, and I felt the teacher disliked me. However, I learned. Years later I realized that the reason this woman was tough on me was because she saw something. A small spark of talent, perhaps? Her toughness and push for me to be a better writer is probably the only reason I have succeeded. She helped me build a foundation in order to understand the basics of writing. She was a fine example of a strong woman – more other young women need to see.
We all need a foundation. We all need a community. We learn and grow from having others teach us, encourage us, and inspire us. They say it takes a community to raise a child, but I say it takes a community to teach us to become better human beings. I'm grateful that my high school teacher was tough on me, yet at the time it seemed so dramatically horrible. Learning how to work hard also starts and ends with community. We must come together and support one another. We must educate. We must make a difference.
Thank you so much to Shawna for chatting with us! Find out more about her book below.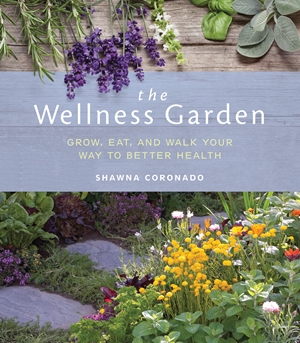 Don't sacrifice your garden or green space because you suffer from chronic pain, health issues, or other ailments. The Wellness Garden is your guide!
If you love to garden but also worry about the physical strain, or if you are in search of ways to promote a healthier lifestyle, and even combat specific, chronic, health issues, then noted garden author and speaker Shawna Coronado has good news for you! You can stay active, fight chronic pain, and keep the garden you've worked so hard to cultivate.
In The Wellness Garden, her new book from Cool Springs Press, Shawna details exactly how she has learned to use her garden as a key tool in her battle with osteoarthritis and other chronic pain issues. In this inspiring but highly practical book you will learn from Shawna's life changing garden experience and see how you can create your own Wellness Garden–and gain the healthier lifestyle you desire and deserve.