Let's face it, dogs just aren't tidy eaters. (Well, most aren't, anyway.) During their happy eating bonanza, water is splashed and drooled onto the floor, bowls are scattered, and paws help spread the mess once the meal is done. Towels and mops are usually involved afterward.
Chris Peterson shares a pet bowl holder project in The Pallet Book that will make your pup's mealtime a lot less sloppy (dare we say mop-free!).
The pet bowl holder in this project helps prevent the mess in two ways. First, it stops the bowls from moving and sloshing as they do. Second, it raises the food dishes closer to the level of the dog's snout, which makes for a less messy chow time.
Thanks to the sturdy nature of pallet wood, the holder can be used indoors or out. You can finish or paint the base, but leave the top natural because your pet will probably be licking the top. Of course, it's usually easier to leave the whole structure natural, especially if it will be normally kept out of sight in a mudroom, utility space, or pantry.
Tools You'll Need:
Table saw or circular saw
Router
Dado blade set
Bar clamps
Carpenter's pencil
Woodworking compass
Power drill and bits
Jigsaw
Sanding block
Materials You'll Need:
1 pallet
Wood glue
3" wood screws
Sandpaper
Pet bowls
How To Make The Pet Bowl Holder
Cut two frame sides 21" long and two frame ends 9" long from stringers. Cut three top boards 19" long from deck boards.
Use a table saw equipped with a dado blade (or a router with a guide) to cut ¾" wide by ¼" deep dados in the faces of the frame pieces, 1" in from an edge (along the edge opposite any notches).
Edge glue and clamp the top boards aligned side to side. When dry, mark points on the surface 5" in from each end and centered side to side. Use a woodworking compass to scribe each bowl circle, centered around the marks.
Drill a starter hole in each circle, and use a jigsaw to cut out the circles.
Butt a frame end to the end of a frame side to create one corner (with the dados aligned and the notches facing down), and fasten them together with 3" wood screws. Repeat with the opposite frame end piece to create a U.
Slide the glued top into the dado slot. Slide the remaining frame side onto the top, and screw it to the frame ends on both sides. Sand to remove obvious blemishes and splinters, but don't finish the frame, because your pet will be licking it, so you'll need to avoid possibly toxic coatings.
Tip: Easy Dado Depths
To quickly and easily determine how many dado blades you'll need to stack for a dado cut, set the wood that will go into the dado on its side on a flat, level work surface. Stack the blades up next to the wood to precisely match the height of the wood, and you've got exactly the dado stack you need.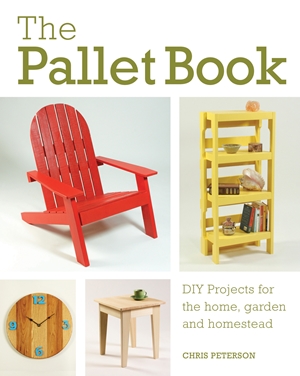 Upcycle that unwanted wood!
Join home improvement author Chris Peterson for a complete guide to deconstructing and repurposing pallets to serve a new purpose. From quick and easy builds like a bird house and a wall clock to more complex projects like a garden cold frame and a kitchen island, there's something for everyone—and every pallet—in The Pallet Book. Some projects, like the raised bed, showcase the pallet. For others, like the side table, you'd be hard-pressed to guess the wood was free. Peterson also dishes out must-have pallet knowledge, including the basic tools for breakdown, finish options, and key information on pallet safety.
Projects Include:      
Cold Frame
Workbench
Child's Sandbox
Coat Rack and Shelf
Shoe Shelves
Bookshelves
Kitchen Island
Bar Stools
Dog House
Desk
And much more!
Chris Peterson is a veteran home improvement and design author. Among the many books he has written are 5-Gallon Bucket Book, Building with Secondhand Stuff, Manskills, four books in the Ideas You Can Use series, and many books in Cool Springs Press's BLACK+DECKER Complete Guide series. He has also co-authored numerous home design books with noted media celebrities. He lives in Ashland, Oregon.