Erika Kotite is an editor, writer, and content developer in both print and digital media. Her book, She Sheds, shows women how to create cozy getaways with inspiration from across the country. Find out how the women in her life inspire her below.
When I was about 8 years old I discovered the Biography section of my town's public library. From that moment until years later, biographies were the genre of choice for my pleasure reading. Classmates walking past me on the playground asked what my book was about and I'd say "oh, I'm learning about Clara Barton this week." The stories of these men and women from so long ago suddenly became very much alive in my imagination. Each chapter illuminated the many achievements but also the difficulties, personal tragedies and general humanness of these extraordinary people.
I remember reading about Sarah Bernhardt, a gifted actress of the early 20th century who no matter what fame she achieved always yearned for the love of an emotionally distant mother. Harriet Tubman, who escaped slavery and helped others gain their freedom, yet never recovering from physical harm she endured on the plantation. I loved the books about dancers and artists, doctors and teachers. Annie Sullivan's hard-won success with her student Helen Keller was a story that enthralled me from first page to last.
At some point I stopped reading about famous women. Perhaps it was when I stumbled upon a book that published diary entries from women crossing the Great Plains to stake land claims. Their names – Katherine, Dottie, Elizabeth, Meredith – were those bestowed on countless other unknown and faceless women who achieved marvelous feats of unheralded endurance and optimism. Some made it to a new life with their parents or their young families, others died along the way, of botched childbirth or yellow fever.
My grandmother Marguerite Keese was not famous. A hardworking young wife, mother and nurse, she bore two children and buried one, after losing her husband at age 28 in an industrial accident. She endured emotional abuse at the hands of her second husband, who moved the family around from one cheap establishment to another. She learned to stretch a pound of ground beef into two meals and had two more children. At some point, she had the courage to leave her husband and resume a career in nursing. She helped raise me and my three siblings when my own mother was alone and trying to hold down her teaching job.
My sister Gabrielle was not famous either. A feisty, warm and expressive woman who loved singing and Mexican cooking, Gaby was a whirling force of nature in our family. Like Deborah Sampson, she knew firsthand the stress of battle – only hers was with drug addiction, not British cannons. A single day of staying clean – through sheer force of will kept alive every second of every minute of every hour, was the work of a hero, although no one ever calls it that. The daily call to fight finally wore her down and she died in the early hours of a February morning, at age 54.
For Women's History Month it's important to save room in your heart for the women who did not earn a mention in history, but should have. Look around you and you'll see the very traits of intelligence, compassion, and courage manifested in very ordinary women. We sometimes make history by attempting to rise above our fate.
Enter to win a copy of She Sheds below!
a Rafflecopter giveaway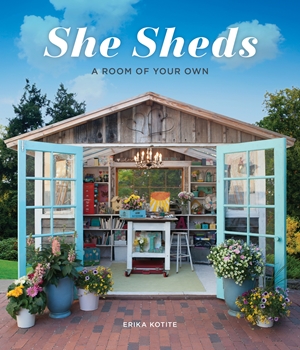 Create your very own hideaway for relaxing, crafting, reading, or just to have a private place just for you. She Sheds provides the instruction and inspiration.
They've got their man caves, and it's time for you to have a space of your own. She Sheds shows you how to create cozy getaways with inspiration from across the country. You will start by defining the goal and purpose of your space. Will you use it for entertaining?Crafting? Alone time?
Then, use the gallery of over 100 photos as inspiration for your decor, paint colors, and landscaping. Construction ideas, as well as ideas for upcycling, and other green resources are at your disposal throughout so you may truly personalize your she shed. Get inspired, and get started on your very own tricked-out retreat!