If you're interested in straw bale gardening but don't think it's possible due to the lack of straw bales in your area, think again. In Straw Bale Solutions, Joel Karsten gives you tips and tricks on making your own bales.
Whether you live in Brooklyn, Dublin, Abu Dhabi, or the deserts of Arizona, there are some places where straw bales can be hard to find. No worries. If you have access to organic matter— practically any organic matter—you can form and compress it into planting bales. In my visits to Cambodia and the Philippines, I have seen the locals adopt ingenious techniques for making bales from rice straw. In Costa Rica, they use spent sugar-cane stalks. Basically, if it will rot, you can plant in it. The key is compression. The tightness of the bale causes heat buildup and accelerates the decomposition.
Or you can add compost. The great thing about making your own bales with some compost is that the bales are already partly conditioned. If you press the mixture of compost and fresh organic material into a bale form that holds its shape and supports the plants, the results will be extraordinary. In many instances, the results are even superior to starting with fresh straw bales and fertilizer.

There are many ways to compress a bale. At right you can see a picture of a device I came up with to do it. You can build something like this, or, if you have big feet, you can probably get by with stomping the organic material into a tight mass. Be creative. Make some bales and plant them.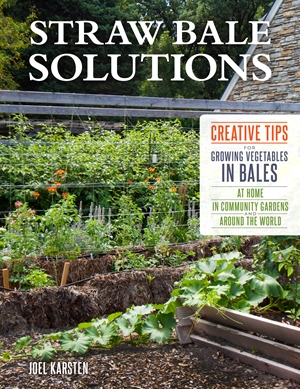 Half a Million Straw Bale Gardeners Can't Be Wrong
From Australia to France to the UK and far beyond, Straw Bale Gardening is making an impact. The revolutionary method of growing food in bales has been on the scene for just a few years, but in that time it has spread across the world with unprecedented speed. The reason? In any climate and on any continent you can grow beautiful, fresh vegetables in environments where no food has grown before.
In Straw Bale Solutions you will find over two dozen stories of SBG gardens that inspire as much as they educate. You will recognize in them many of the challenges any gardener faces, and you will see how you can use the experiences of others to write your own SBG success story.
Since he created Straw Bale Gardening in his home in the Midwestern US, author Joel Karsten has talked to thousands of gardeners and traveled to dozens of countries to spread the SBG word. Here, in Joel's own words, is a collection of fascinating illustrated stories that you can enjoy and learn from. For example:
• Cambodian SBGs grow food during Monsoon season- for the first time
• SBGs sprout fresh veggies in the rocky Swiss Alps
• A community garden in New Jersey turns an EPA site into a food haven
• An SBG in the lowlands of the Netherlands rises above constant floods
• And many more stories of SBG success that have lessons just for you